NTE III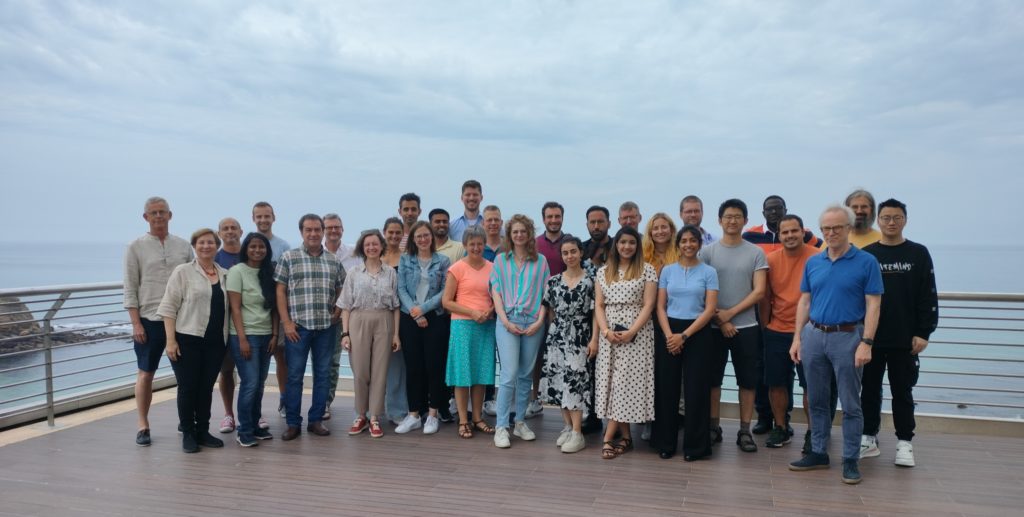 Our consortium met again in Portugal at Hotel Golf Mar, Torres Verdas June 4-10, 2023. The focus of this training event was Translation to rehabilitation-deal with injury. At this stage of the project, the ESRs need to think how to use the knowledge they are acquiring and collecting through their experiments to real-world practices, especially in rehabilitation and possible industrial outcomes. This NTE was therefore structured around different topics, eg. we reflected together on the importance of multidisciplinary research but also on its challenges, we had Experiential Skill Learning sessions, communication and entrepreneurship workshops and many more!
Pitching and posters
The ESRs kickstarted this NTE with scientific pitches communicate their project ideas to different target populations (Therapists/Patients/Industry) in 3 minutes. This was an exercise to understand your target audience and communicate with relevant vocabulary.
The ESRs also practiced their academic communication skills by presenting posters on the current status of their projects. Poster sessions generated a lot of interaction between all members of the consortium and the ESRs received some valuable feedback as well as interesting ideas on future course of action.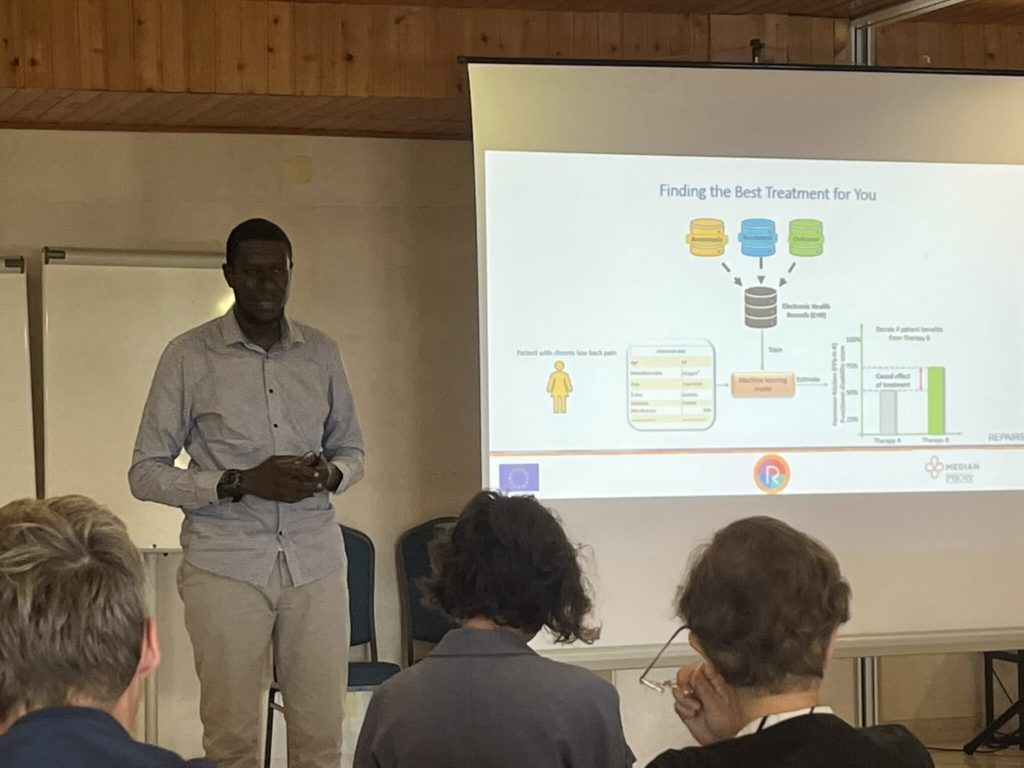 Content training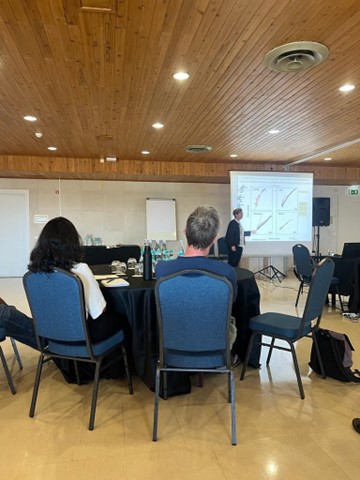 Prof. Mindy Levin (School of Physical and Occupational Therapy, McGill University, Canada)
Educational talk by Prof. Mindy Levin from McGill University on applying motor control & learning principles in stroke rehabilitation. The ESRs learnt about the impairments and recovery process of stroke patients. Prof. Levin also presented interesting experiments that use referent control theory to explain motor behaviour of stroke patients.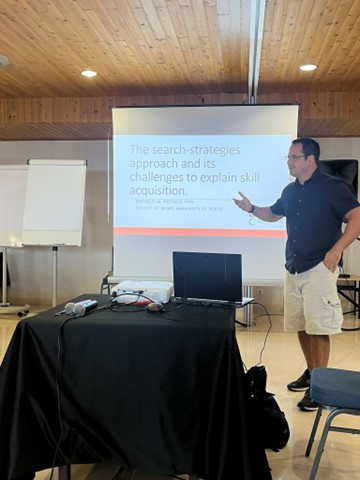 Matheus Pacheco (PhD, Assistant Professor, University of Porto)
Dr. Pacheco gave a seminar on the importance of structure in variability during motor learning. He spoke about measuring learning within the perceptual-motor workspace and the current gaps in motor learning literature. He grabbed everyone's attention with his ideas on understanding motor learning, as well as his witty humor.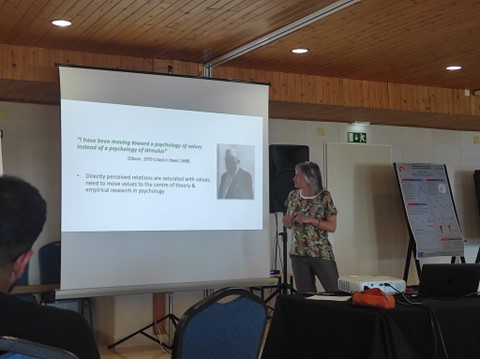 Prof. Joanna Rączaszek-Leonardi, (Human Interactivity and Language Lab, University of Warsaw)
Talk entitled "Values in Motion and Values in Research" by Dr. Joanna Rączaszek-Leonardi. Dr. Rączaszek-Leonardi introduced the importance of values (ecosystem constraints) when considering human movement, as we all act & move in a meaningful environment.
Working in multicultural and multidisciplinary teams
Alessandro Bonfiglio (working in a multidisciplinary team)

Our ESR Alessandro Bonfiglio shared his experience working with a supervisory team comprising an engineer, movement scientist & entrepreneur. The presentation was followed by a group discussion where the ESRs discussed challenges of interactions between sectors such as academia, clinic, government and industry. Language, Priorities and Goals were identified as key elements of cooperation.
Brigitte Hertz, Hertz Training for scientists
Interactive session on working in a multicultural team & challenges faced when moving to a different country for the Ph.D. The ESRs also shared their personal experiences of moving to a different country and working with peers of different cultural backgrounds. Key takeaway was to be aware of differences in communication & decision making styles between cultures.
Ins-and-outs of translational research
Heleen Reinders-Messelink (Revalidatie Friesland) + Giulia Di Rienzo
Presentations and rich discussions on defining translation and understanding the requirements of translational research, with an emphasis on rehabilitation. Giulia in her presentation brought up a framework for understanding the differences in values in science. The presentation of Giulia was followed by a group discussion where the audience discussed challenges of interactions between sectors such as academia, clinic, government and industry.
ESL workshops
During the Experiential Skill Learning, the ESRs had to present their experiences in re-learning a task after mimicking an injury, and tried to map these experiences in different motor learning theories. Motor learning theories such as Fitts and Posner model, Internal Models, Direct Learning and Dynamical Systems Approach were discussed and debated. The focus was on understanding learning of novel complex movements using these theories.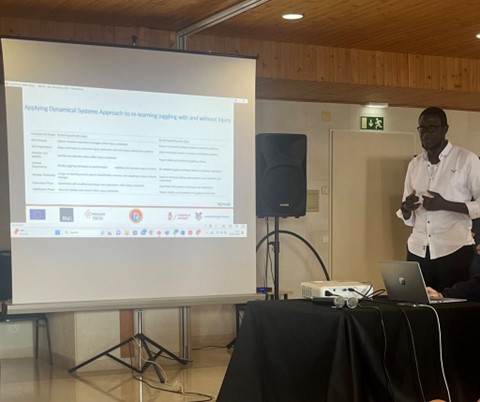 Creative Communications Lab
Anna Ross (grasshopper kreativ)
The ESRs spent one day in the creative communications lab of Anna Ross, learning photography, video making, and presentation skills. Everyone showed their creative side and came up with amazing movies and presentation templates!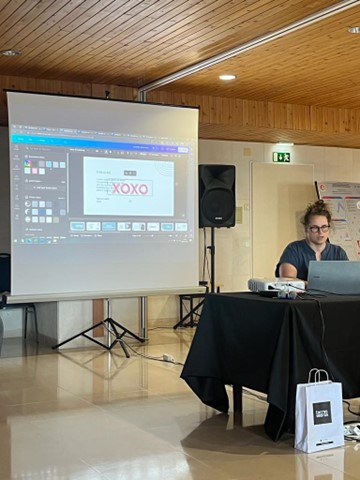 Personal translational career talks
Saroosh Bilal (experience in working in industry)
Our ESR Saroosh presented her personal career path moving from industry to academia for her PhD. She highlighted the differences in presentations styles, working time and rigour in content between the two settings. This was followed by a group discussion on how to choose whether to stay or leave academia.
David Tacconi (PhD, Euleria Health)
We also had the CEO of our beneficiary Euleria Health David Tacconi, speaking about his journey as an entrepreneur, while he also demonstrated the IMU-based devices developed by Euleria for patient rehabilitation in the clinic and at home.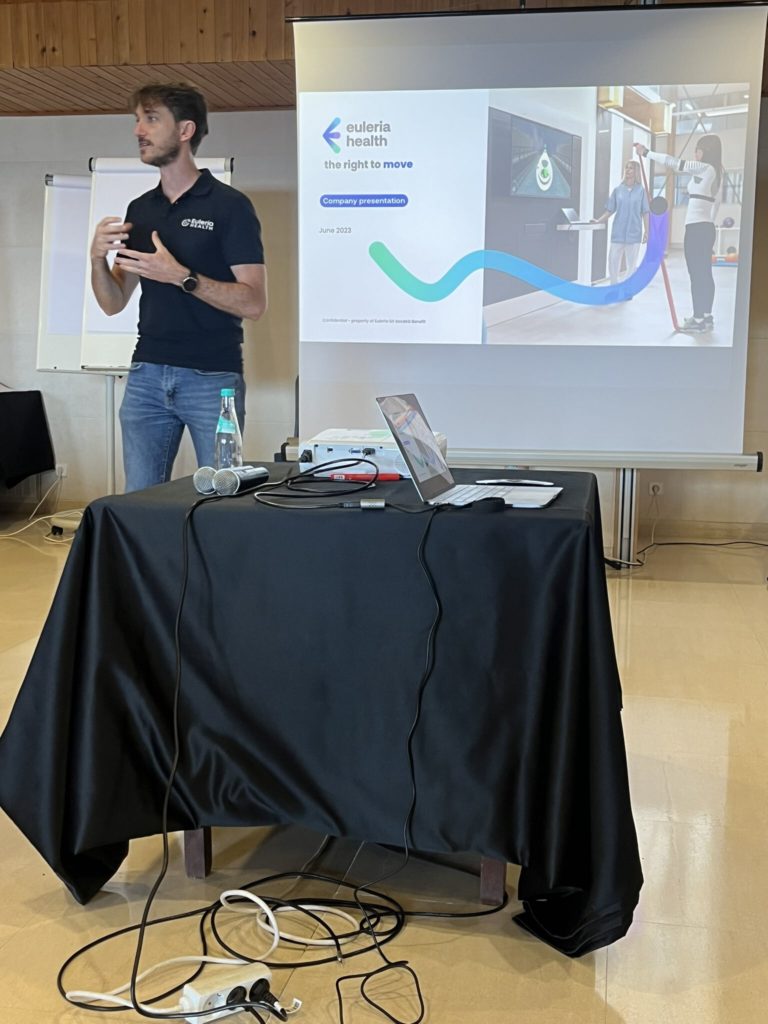 Entrepreneurship workshop
Aniek Ouendag (University of Groningen)
The last session of the training event was an introduction to entrepreneurship conducted by Aniek Ouendag from the University of Groningen. The ESRs learned about the pitfalls of being an entrepreneur and also wrote their own value propositions that cater to a target audience.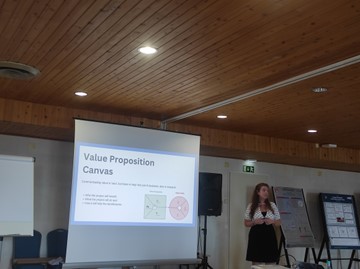 Social activity at the Beach in Santa Cruz
Some members of the consortium spent an afternoon learning the complex motor skill of surfing. Supervisors and ESRs both struggled to get on the board and ride a wave but they had a lot of fun. The other members spent time on the beach at Torres Verdas and got themselves a nice tan!